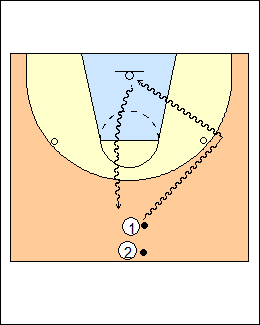 1
The Drill, August 2006

a)
Dribble hard, turn the corner to speed into a layup (high jump, not long jump). Go right and left.
Fabian McKenzie - (cones are foul-line extended near the 3-point line), dribble in straight lines, avoid rounding off cuts, dribble back up the middle, alternate sides.
(Progressions, e.g. underhand layups, reverse, one-hand pickup, inside-hand, goofy foot, Euro-step, pro hop, slice)
Billy Donovan - make a combo move at a cone out top then one dribble outside a second cone (near the elbow) to the rim.