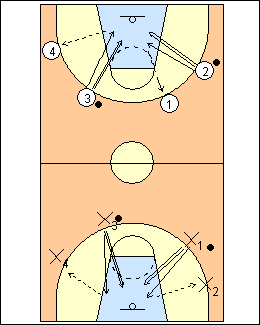 1
Geneva Devils

Two teams, one at each basket. Players on each team are paired up with one ball per pair. Rotation is shoot, rebound, pass to partner, and relocate for the next shot. First team with 20 catch-and-shoot makes wins, then one-dribble pull-ups then 3-point shots.
(Variation - first team to 20-20-20)

Fabienne Blizzard - 30-30-30 - first team to make 30 finishes (e.g. power layups), 30 pull-ups (1-2 dribbles), and 30 threes.