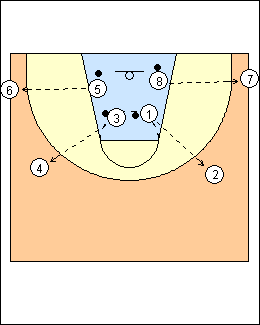 2

b) Three-point shots

Each pair must have X combined makes, one player shoots and the other rebounds and passes until Y makes than switch (e.g., 40 total makes, change after 10).

Brenda Frese - two players at each basket, one player takes 10 shots, follows the last shot to rebound and pass to partner (10-15 foot passes), with three players use two balls, rebounder-passer-shooter.

(Variation - change the shooter after two misses in a row, or after one miss)

Mike Maker - 40 in 4 - one pair at each basket, make 40 combined shots in 4 minutes or sprint, start on one side of the floor, switch the shooter after 1 minute, then switch sides, some players shoot 3s.

Ross Johannsen - first shooter to make 10, switch rebounders and shooters.

Chris Oliver - Fours shooting (YouTube) - each player takes four shots (3, pull-up, 3, pull-up, usually opposite), rebounds their last shot. Can add decision training, e.g. pass if the rebounder's hands are up (pass off the dribble on a pull-up), get a return pass.

In general, change the shooter after

- each shot (shoot and follow)
- X takes, makes, or minutes
- X points (50 in pairs)
- a miss, or 2 or 3 misses in a row (Villanova 20, 2 miss and out, 3 and done)
- a miss or 3 makes in a row (Consecutive)
- 2 misses in a row or 3 makes in a row (10 drills)
- 2 or 3 makes in a row.

Also see Shooting - Beat the clock, Hubie Brown spot, 50, Eagle, 7-up.