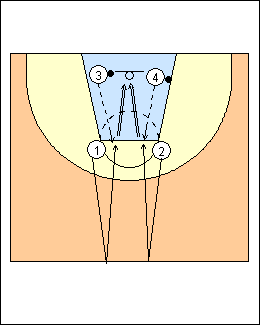 2
Then 1 and 2 sprint to touch the centre line, come back for passes from 3 and 4, shoot, continue until one player makes 10 shots, switch shooters and rebounders.

Progression - three-point shots.

(Option - run around cones on the centre line)
Frankston Blues - rebound your own shot, pass to your passer on the wing then sprint to halfcourt and back.
Mike Bader
- one-dribble pull-ups
- with three players, have a rebounder, passer and shooter
- the rebounder closes out to pressure the shooter on each shot.
basketballxchange - the 3-point shooter backs up 5 metres after each shot and the rebounder makes a putback.