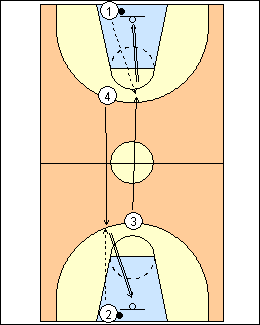 2
3 and 4 then run to the other basket for a pass. Continue back and forth for 1-2 minutes, then switch passers and shooters.

coachesclipboard.ca - players shoot, jog towards the other end but then sprint when they reach the midcourt line. Coach can specify a number of takes or makes to change positions with a baseline passer.
Kansas Women - sprint shooting - 90 seconds, up to 6 shooters at one time (three groups), can be run fullcourt or halfcourt, progressions - 15-foot shots, 3s, pull-ups etc.
See Shooting -
2-man conditioning
,
3-man conditioning
,
Choice is yours
.