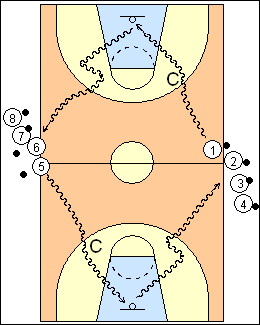 1
Jay Wright

One group per basket, all players have balls. Each player takes a layup from the right then dribbles out to the other side. When all players have gone, repeat from the left side.

Options

- make a move on coach
- make a change of direction dribbling out the other side
- pull-up shots, e.g., off the glass.
Geno Auriemma - have coaches on both sides, players attack from the right, dribble out and attack from the other side without waiting, finish with short jump shots when attacking from both sides, not layups.
goxavier.com (daily dozen) - start each move from triple threat or with 3 hard dribbles, finish, go to the other side. The finishes are
- reach-out layup
- two-foot power layup
- pull-up bank shot near the block
- stride stop, step thru
- down the middle, cut off trailer (ball - outside hand)
- baseline corner, spin, reverse layup
- baseline corner, spin, baby hook.
Tom Izzo (daily dozen) - a coach rebounds at each end, shooters keep going and get the ball back, progression - coach gets in position to take a charge.
Tara VanDerveer - use three baskets, crossover and finish on the other side, reverse layups, bank shots (option - rotate side-middle-side basket on each layup, continue).