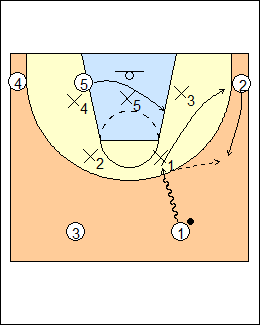 1
Greg Kampe

Teams don't zone against Oakland because of the shooters, but if they do, they run zone offence, put the best shooter at the high post, move the ball around, pop him out, screen for him. They run dribble-drive sporadically against zone ("Memphis"), otherwise the zone gets comfortable. Coach yells out what he wants.

a) Loop drop 4

Start with a 1-2 loop (kickup). Against a 2-3 zone, 1 won't be able to get to the elbow, but make X1 guard him.

5 comes underneath as 1 hits 2 on the loop.