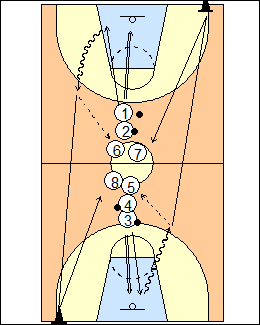 1
ebasketballcoach.com

Two lines at opposite ends of the court (e.g. out top, on a wing, in a corner), two balls for each line.

At one end, 1 shoots, rebounds, dribbles outside the 3-point line, passes to 6, touches a pylon on the far baseline, goes to the back of the other line. 2 shoots after 1, then 6 goes.

3-4-5 do the same at the other end.

Go for 2 minutes.

Progressions, e.g.

- one-dribble pullup right or left
- pump fake, one dribble pullup
- rip thru, one dribble layup
- jab step, rip thru, one dribble layup.

(Variations)

- cut around the baseline cone
- go directly to the other line on a make.