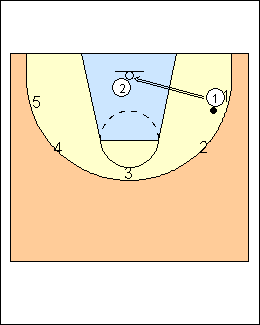 1

Shooter and rebounder, one ball. From each of 5 spots, shooter 1 takes a shot worth 3 points, a pull-up for 2 points, and a layup for 1 point, getting a pass from rebounder 2 each time. 1 then shoots two free throws. 2 shoots next.

Option - for 50, take a shot, left and right pull-up, and left and right layup at each spot, then 5 free throws.
John Calipari - pull-ups and layups from the corners and wings are shot fake, one dribble to the middle (use the same pivot foot each time), drive either way from the top.