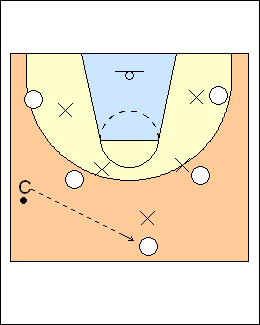 1
Coach passes to team O, which attacks team X. Team X loses 1 point for an offensive rebound, scores 1 point for a stop with pass to coach and stays on defence. Team O switches to defence if they score. Only the defence scores points (win on defence).
Options
- defence is out on a shooting foul or two non-shooting fouls, or any defensive foul
- require a perfect stop, e.g., close-out, contest a shot, box out, no offensive rebound
- starter vs subs - starters must get 2-3 stops in a row for a point.

Quin Snyder - 5 on 5 defensive game - the offence gets 3 or 5 possessions then switch, defence scores 1 for a stop and 2 for drawing a charge, losers run.

Tony Barone - if coach doesn't like the defence, blow the whistle and get them off. Play 4 on 4, 5 on 4 (attacker at the high post), and 6 on 4 (attackers in the corners). Can have two teams or three.
Dean Smith - 4 on 4, five possessions each, the defence gets two points if the offence does not get off a shot, one point for a defensive rebound, no points if they foul or the offence scores (see Defending -
Wootten Fogler
).
Ryan Goodson - 4 on 4, 35-second shot clock, the defence gets one point for a deflection, turnover or defensive rebound, score to get on defence, play to 20 points.