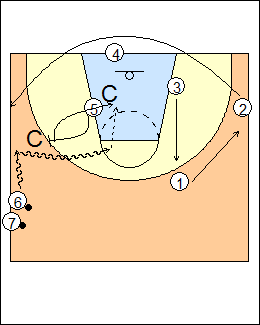 4
d)

6 dribbles down into working position, 5 runs out to pick and roll, feet parallel to the sideline, 6 explodes off the screen heading to the nail and bounce passes to 5 for a dunk or layup, front of the rim (cut in front of coach, take out the nearest defender on the way to the rim, roll in front of whoever is in your way, take the help out of the play).

4 is the next post player, 6 will make the first three passes to 4.

Rotate 3 to 1, 1 to 2, 2 to the end of the passing line.