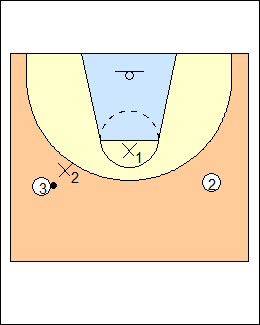 1
John Calipari

Against a 2-3 zone, you've got to attack the lane, they're playing a zone because they really can't guard you, they're trying to get you to shoot jumpers. If you get into the lane off a drive or pass you've got a chance.

Beat the zone up the court before it can get set up. If you can't score, get it to the other side, see what you have, then the third option is get it into the lane, a pass or dribble to the middle or low post.

The spots that are open against a 2-3 zone are the wide slots on each side (where 2 and 3 are positioned). When 3 has the ball, a guard has to take him, the other guard is on the rim-line. The further over that 2 gets, if X1 can't get to 2, a forward has to guard him, it's hard to bump that far out. Their zone offence attacks those slots.