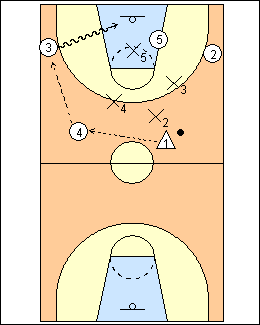 1
Ian MacKinnon

Two teams, continuous 5-on-4 fullcourt, point guard 1 plays on offence for both teams, he can shoot but not offensive rebound.

Emphasize short, fast-break possessions, there is always an offensive advantage. Any ball out of bounds goes to the defence.
Option - 8-second shot clock.
(Variations)
- no dribbling
- run a set if there is no shot within 8-10 seconds.
Option (Chris Oliver) - have 1 defensive rebound at the nail area, he can push it or pass if he gets a rebound, or break to space if a teammate rebounds, see
Nail rebound concept
(YouTube).