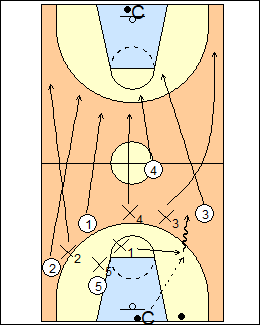 2
As soon as team O takes a shot, make or miss, the passer behind the baseline outlet passes to the point guard on team X, which fast breaks on the other basket.

Repeat coming back when team X shoots, 1 will get an outlet pass from behind the baseline.

Go up and back once or twice.

Bill Self - passers (coaches) are on the right sidelines, top of circle extended. On a score or stop (as soon as the ball is secure), let the ball go, coach will pitch ahead to the first defender that he sees making the transition to offence.