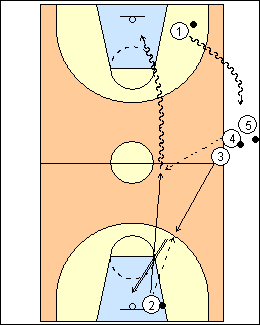 2
1 rebounds his shot and goes to the passing line, 2 rebounds his shot, passes to 3, and sprints for a pass from 4.

With a full team, use both sides of the court (players stay on each side).
(Variations)
- 3 takes a shot-fake one-dribble pull-up off the pass from 2
- 2 pulls up to shoot off the dribble
- to speed up the drill, put another player under the basket who rebounds 2's shot and passes to 3, 2 rebounds the next shot by 4.