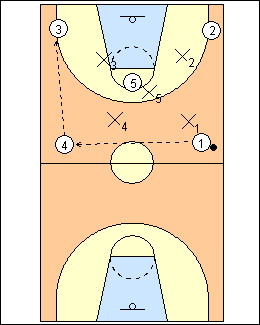 1
Fullcourt scrimmage, one team (here team O) is a given a 3-5 point lead with two minutes left in the game.

Options

- bonus situation for one or both teams
- use a shot clock.

Variation

Play two halves (3-5 minutes), switch defence to offence at half time. The offence attacks halfcourt, make-it, take-it with normal scoring (including free throws). Defenders break 5 on 0 on a stop to score two points. A manager or coach passes the ball up to the offence as the defence sprints back. The defence should be leading by half time, can they hold the lead when they switch to attack in the second half?