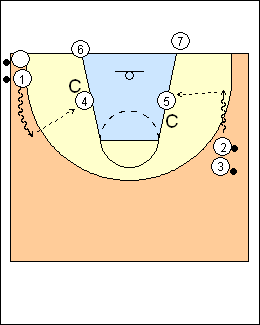 2

Sue Gunter
WCBA's Offensive Basketball Drills

Two groups, perimeter and post players. A coach or manager defends 5 on the high side with a blocking dummy, another defends 4 on the low side. 4 and 5 will post with both hands up, seal, call for the ball, receive (step to the ball), chin, and look over their shoulder at the basket, they do not shoot. Perimeter and post players change sides but stay in their groups.

Variations

- a manager defends each passer
- post players shoot.