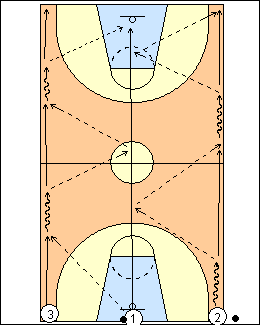 1
Billy Donovan, Larry Shyatt

1 passes to 3, gets a pass from 2 and returns it, gets a pass from 3 and returns it, continue fullcourt. No travelling. 2 and 3 dribble with the outside hand, 1 does not dribble. Catch and pass with two hands, lead the receiver, holler his name.

Larry Shyatt - the wings run out of bounds.