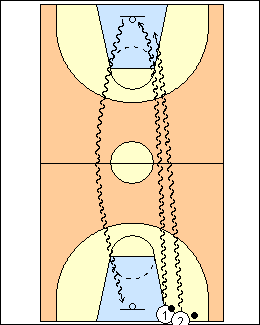 1
John Calipari

Five-part timed peer pressure, they put 5-6 minutes on the clock, every player has to get through it once, go again on an error. If the team doesn't make the time they start over.

a) Fullcourt layups
b) 2 on 0
c) Michigan
d) Weave, 4 passes with layup.
e) Weave, 3 passes with jump shot.

a) Fullcourt layups

3 balls. Each player takes a right-hand layup up and back and must make two in a row. If you miss or fumble at the far end, return to the near basket, circle without shooting and go back. Repeat with fullcourt left-hand layups. Limit of 4 dribbles, optionally 5 with the left hand.