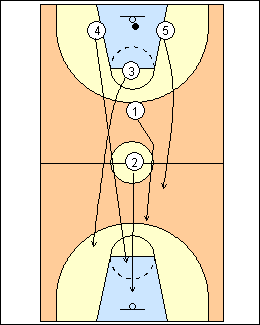 2
Once a basket is scored all five players sprint to the opposite end of the court to defend the basket area then move as quickly as possible into their respective defensive assignments. While the first five retreats, have the next five ready to repeat the same procedure.

Shadow transition variations:

- press, set one or more imaginary traps, fall back
- no putback on a miss, use missed-shot defensive transition, e.g., the point guard pretends to pick up and contain a ballhandler using defensive footwork.