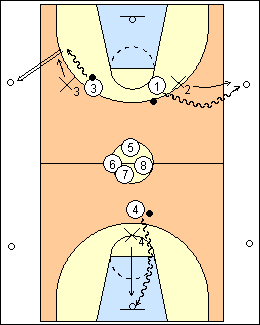 1

1-on-1 at multiple baskets, remaining players are in the centre circle. Check the ball, play to a stop or score, keep possession on a score (make-it take-it). Go to 3 points, then the loser is replaced by a player from the centre circle.

Options

- limit of 2 or 3 dribbles
- to start play, defenders pass, close out, and touch the attacker's hip with a hand.

Variations

- both players can rebound a miss and shoot, play to a score
- always rotate to defender to attacker.

See 1 on 1 - At each basket.