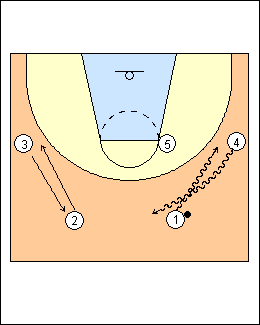 1
Lawrence Frank

The Nets will run a lot of quick hitters to screen the zone and get the ball to scorers in positions where they can be effective. In general they want to:
- make 2 defenders play one attacker
- attack the short corner (heels to the baseline) and middle
- attack from behind
- pick and roll
- screen the zone
- place attackers in the grey areas of the zone, not matched up with defenders.

"Forwards out" is based on a Princeton man attack. 1 and 3 are the best shooters. 1 dribble hand-offs with 4, 2 exchanges with 3.