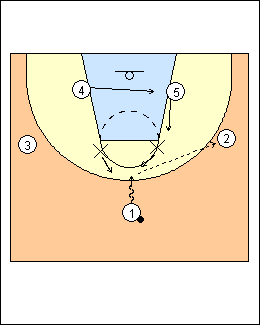 1
Steve Nash DVD

Gap zone offence for younger players (8 to 10). Perimeter players dribble towards gaps in the zone, pass to an open player. Without the ball, step to open areas, meet the pass. Post players circle and find an open area in the zone, keep moving.

3-out 2-in

The point guard takes one or two dribbles towards a gap in the defence and kicks the ball. Ballside post 5 moves to find an open area, weakside 4 comes over also looking for an open area.

The point guard doesn't always have to dribble, he can pass right away.