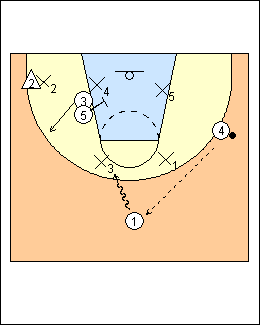 4
1 gets a pass back from 4, drives right at X3 to freeze him, then looks to pass to 3 using a downscreen from 5. 3 can look for 5 inside, e.g., sealing X5.

Attacking a triangle and two - put the two guarded players on the blocks and use a two-guard front with one wing.
Blaine Taylor - against a box and one or triangle and two, run a man play, set the screens, read it, do what you do.