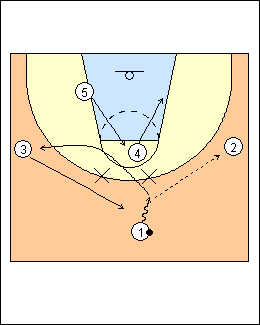 1
Tony Bergeron

Against an even-front zone (2-3). This is what they run most frequently.

The point guard wants to make one of the top defenders play him then pass to that wing.

On a pass to 2, 4 dives to the block, 5 replaces 4 at the high post, 1 goes through and is replaced by 3.

If a bottom defender comes out on 2, look for a post entry to 4, or a hi-lo entry through 5.
coachesclipboard.ca - 5 should cut to the high post if the top defender goes out on 2, or go to the short corner if the bottom defender goes out.