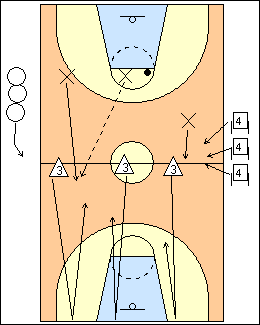 2

On a stop or score, team X attacks team 3, who must touch their baseline. Team O leaves to the sidelines, Team 4 enters as the ball crosses centre.

Variations

- teams outlet after a score (no inbounds pass)
- make-it, take-it the other way (UNLV)
- no teams, 2 teams, or 3 teams (team O comes back up to midcourt after defending)
- 2 on 2.