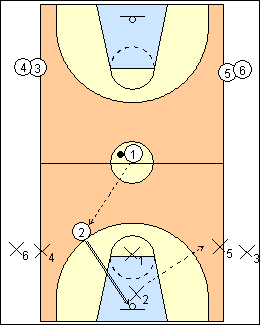 1
coachesclipboard.ca

Two teams. 1 and 2 attack X1 and X2. On a stop or score, X1 or X2 outlet to X4 or X5, who together attack the other way against 1 and 2 (no inbounds pass after a make). All made shots are 1 point (emphasize attacking the basket), play to 7 or 11.

Other rules
- the outlet pass must be made in the backcourt
- the other attacker can cut upcourt before the outlet pass
- 1 or 2 can steal the outlet pass and try to score (against X4 and X5)
- players stealing the ball in their backcourt must outlet the ball
- defensive fouls count as a basket
- offensive fouls are a violation (turnover)
- no out of bounds, use the whole gym.

Variation - 1 and 2 can press X4 and X5 in the frontcourt, steal the ball and try to score.