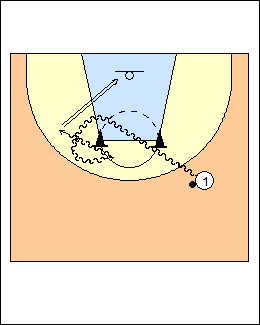 2
Progressions

Snake then

a) Cross and pull

Crossover dribble outside (move laterally, use a cross-step), pull-up jumper.

b) Cross and step back

Crossover dribble and cross-step, one dribble and step back.

c) Behind the back shuffle.
Behind the back dribble, shuffle, shoot.

(Variations)

- Crossover stepback with no extra dribble.
- Crossover, float and run with the ball (two steps), one-dribble stepback.
- Behind the back (wrap) stepback (with or without an extra dribble)
Use cross-step (bounce off), shuffle (kick step) or bound footwork for lateral separation. Use a push-out (or inside-out) move for strong-side separation, e.g. see YouTube videos -
Nasty hesi
,
Curry shooting series part 1
.