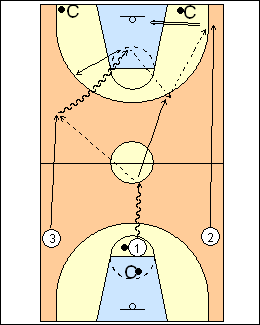 1
Jamie Dixon

Shooting for perimeter players. 5 trips, 3 players shoot on each trip, make at least 8 or go again, should take about 65 seconds. Any player can bring the ball up.

a) middle penetration

3 drives middle, kicks to 1 who swings the ball to 2 for a shot. 3 spaces out after penetration, spotting up outside the arc, making himself available for shots or reversals.

Option - 3 passes to 2 who passes to 1.