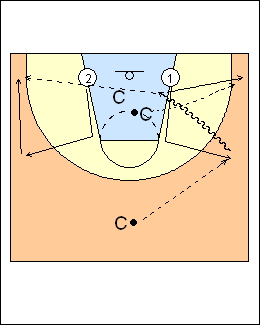 1
Jamie Dixon

Two coaches are passers, another rebounds. 1 and 2 cut to the wings, coach up top passes to either player. Both players will shoot.

a) baseline drive (drive and drag)

1 drives baseline, gets deep in the paint with one dribble, makes a one-hand cross-court bounce pass to 2 in the corner, then back-pedals to the other corner for a pass from coach in the lane, both players shoot.