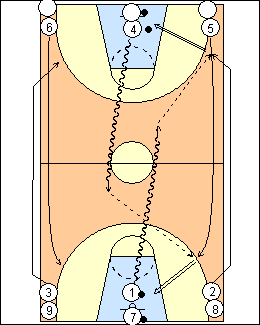 1
Billy Donovan
Nike Clinic April 2009
basketballcoachingnotes.blogspot.com

Three lines on each baseline, middle players have a ball. 1 and 4 dribble up the right elbow line on each side and pass to one of the wings in their group for a spot-up 3-point shot then go off and stay at that end. Designate which group runs outside and which runs inside. The next group goes from each baseline when the first group crosses halfcourt.