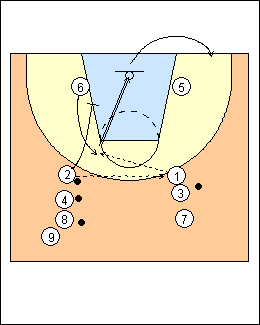 1

4 balls. 2 passes to 1 and downscreens for 6, who fakes one step towards the basket then comes tight off the screen to get a pass at the elbow from 1. 6 shoots, rebounds, and goes with the ball to the other line. 2 takes 6's place to become the next shooter on that side.

Options

- one-dribble pull-ups
- 6 shows a closed fist with thumb up, cuts backdoor for a pass
- 6 starts in the corner, fakes a flex cut then breaks up off 2 (touch and go).