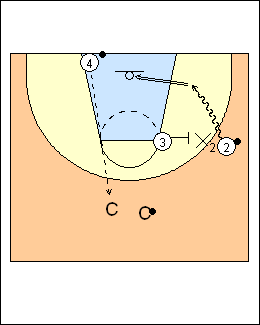 2
3 then ballscreens for 2, who refuses the screen and goes baseline for a pull-up shot (X2 gets over-zealous). Everyone goes once, then switch sides (option - use managers for X2 and 3).

Progressions

- come off the screen to the middle for a shot (poor defence, X2 gets caught on the screen, no one shows)

- make a step-back dribble (away from a strong show), then turn the corner for a pull-up when the xscreener retreats (for this option, have X2 be the defender on 3 who shows)

- shoot behind the screen (X2 goes under).