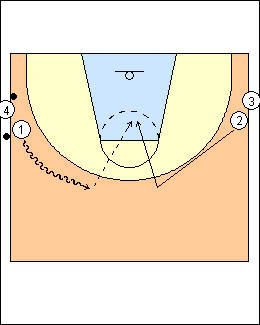 1
Jeff Bauer

1 reverses the ball on the dribble. 1 and 2 force the defence to lock-in denial by cutting towards each other. About 10 feet apart, cutter 2 shows a fist, fakes a catch, pushes off for a speed cut. 1 pass fakes outside then passes on the speed cut.

Start at swing spots, wings, swing and wing.

See Dribble hand-off shooting and Backdoor cut layups.