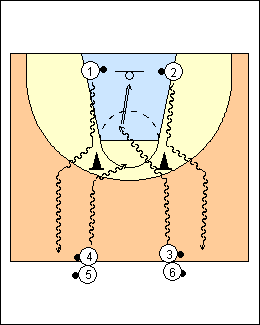 2
As 3 and 4 attack from halfcourt, 1 and 2 switch sides and attack the other cone from the baseline and crossover.

Options

- between the legs, behind the back, bring along, spin, shuffle (twice between the legs, start with the other hand)
- double moves, e.g., inside-out crossover, stutter crossover
- triple moves
- three reps, e.g., crossover three times.

See Speed course in dribbling.