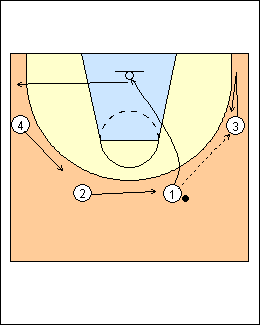 1
4 on 0 motion. Hold the ball for 2 seconds (look for cutter, post) before passing, make 4-6 passes before shooting.

Motion progressions (see 4-out 1-in motion offence):
- on a swing to wing pass, the passer basket cuts
- on a swing to swing pass, the passer downscreens away (or interchanges)
- on a wing to swing pass, flare screen on the weakside.

Variations
- replace one player after each shot (see Duke 3-man penetrate and kick) or after each make
- add a low-post player

Jeff Bauer - emphasize pass and shot fakes, speed cuts (no directional fake), squaring in the air, one dribble to shorten passes to the middle of the floor.