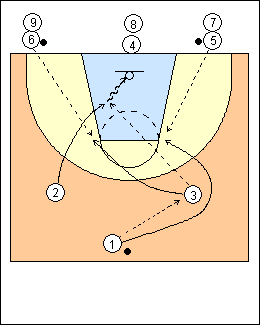 2

The player with the ball at the foul line takes a layup, rebounds, and hands the ball to 4. The other two attackers go to the elbows, get passes from 5 and 6, rebound and give the balls to 7 and 9. 4 passes to 5 or 6 to start the next weave.

Options

- player 4 already has a ball (4-ball shooting)
- all players take a shot (no layup), from an elbow for the player with the ball, from the wings for the other two players.