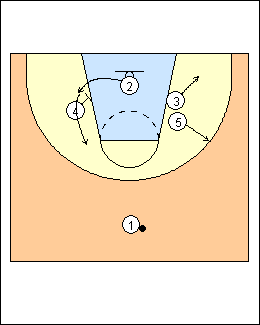 1

Gordon Chiesa
StartSmartBasketball.com

Cutter 2 is "dancing" under the basket. He must change pace, stop and go. He will curl tight if the doesn't feel his defender, will curl high if he does. If 1 passes to his inside hand he is free for a catch and shoot, a pass to his outside hand means catch and go.

4 must read X4. If X4 shows high to bump 2, 4 steps low into the lane (duck-in). If 4 is a good shooter, 2 will curl high, 4 will flare to the corner.

Players 3 and 5 opposite the cut space away.

If offence does not work, it's because of poor screening and casual cutting.