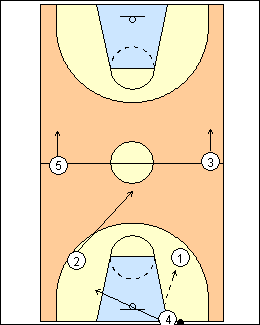 2
Against a man press, clear out on a pass to 1.

Against a zone press, 2 cuts to the middle, 4 moves in opposite and behind the ball, creating a 2-1-2 set. If 1 is under a lot of pressure, weakside 5 may need to break back up the sideline between 2 and 4, and 3 may also need to break back. Otherwise the two deep players remain ahead of the middle player, with 5 on a long diagonal from the ball.

On an inbounds pass to 2, 1 would cut to the middle.

Against a zone press, get the ball to the middle of the floor. The middle player meets the pass (runs through the ball), turns and faces, does not dribble until evaluating available passes.