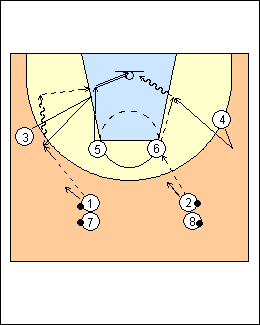 1
Steve Nash DVD

On the left, 3 v-cuts for a pass from 1 then dribbles towards the baseline and bounce passes to 5 cutting down the edge of the lane for a shot.

On the right, 2 overhead passes to 5 who bounce passes to 4 cutting backdoor.

Rotation - 1 and 2 follow their passes, 3 and 6 are the next shooters. 4 and 5 rebound and come back to the passing lines on the same side out front.

Variation - 4 and 5 switch sides after shooting.