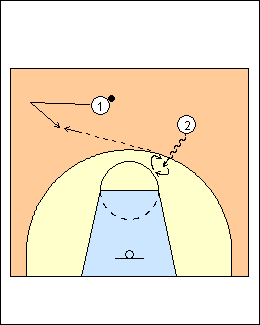 2
2 makes two dribbles and two pivots, 1 spaces away as 2 dribbles then shortens the pass, not too close - 10-15-foot spacing.

Jack Bennett

- 12-15 spacing
- passers stay on the floor (no jump passes)
- strong sweeps and rips
- receivers move to the ball
- fake a pass to make a pass
- pass to the receiver's hands
- start stationary, make any pass
- put the ball on the floor, pass off the dribble, the receiver must keep spacing with the dribbler.

See Pairs passing, and Pairs v-cuts in Footwork.