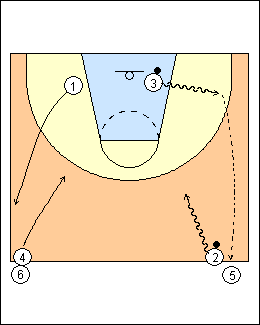 2
1 goes to the rebound line, 3 takes one or two dribbles with his outside hand, jump stops, pivots, and makes an overhead pass to 5. Next shooter 2 goes on the first dribble.

Progression

- reverse layups with the right hand
- crossover dribble, semi-hook shot on the left side of the basket
- hesitation (or stutter), shoot with the left (inside) hand off the right foot, good players play at different speeds
- power dribble, shot fake, power layup (option - step-through up and under)
- around the back (outside-in), right-hand finish.

Use the backboard except if dunking.
Mads Olesen - move the rebounding line to the weakside low post position, where they clean up or relocate on dribble penetration, and can put back any misses.