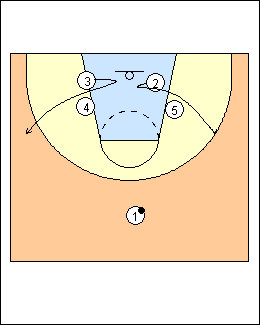 3

Variation - 2 and 3 fake crossing and come back out the same sides using 4 and 5.

1 looks to pass inside to 4 and 5, or attack the middle on the dribble.

If X5 shows to hedge or bump 2, 5 slips to the basket. If X2 cheats early outside, 2 rejects the screen and cuts to the basket.

If X2 and X5 switch, 2 fades to the corner, 5 rolls to the basket (option - 4 goes to the weakside short corner).