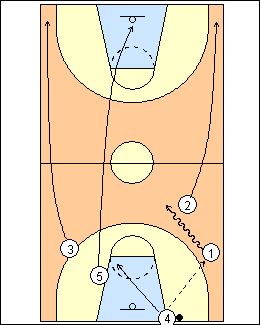 1
4 always inbounds to 1, and trails the play on the weakside. 1 looks to pass ahead. 2 runs the left lane and 3 the right lane to the corners, flattening the defence and flowing into Horns. 5 runs upcourt, turns and seals any defender at the T, and moves to the ballside block if 1 headmans to 2 or 3, who would look to pass inside to 5, drive the basket, shoot, or skip pass.

On a missed shot, if 1 does not get the rebound, he breaks to get a ballside outlet pass from the rebounder, the first big rim runs, e.g., 4 if 5 is the rebounder.

Coaching option - 1 and 2 are interchangeable, 2 is the point guard if he gets a defensive rebound, 1 fills the right lane.