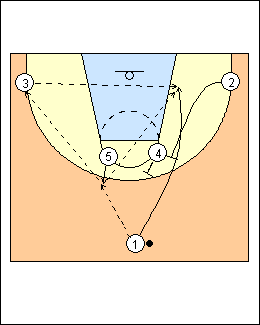 1
1 passes to 5 then cuts to the basket using backscreens from 4 and 2, or bumps and fades if his defender goes ballside.

5 can hit 1 or 3 in the corner, or go one on one (Larry Brown).

Variation (Larry Brown) - 3 backcuts on the pass to 5, comes back out, then backcuts again.

Could be used as a counter to Horns 45 Spurs.