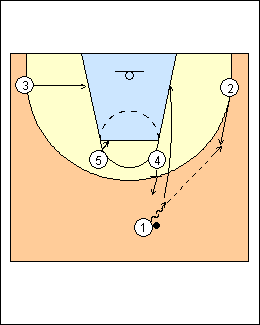 1

Joventut Badalona (coachbob.free.fr)
Fist (coachesclipboard.ca)

Pass and UCLA cut by 1, 4 steps out top.

Can be a read and react play if 4 steps out after the UCLA cut.

Variation - 1 Badalona - 1 dribble pushes 2 to the block (see Spanish Women' offence, Horns 1 France).

Also see Horns 23 Czech scrape cut.