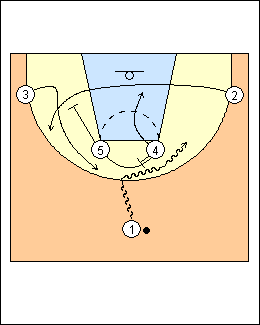 1

As 1 drives by the midscreen set by 4, 2 backcuts weakside, and 5 downscreens for 3. 1 can hit 2 cutting backdoor or 4 on the roll to the basket.

If 4's defender steps out to hedge or trap the drive by 1, 4 should slip the screen and roll to the basket for a pass from 1 or 5.

If double-teamed, 1 strings out the dribble to spread the double team and looks for 4 rolling to the basket, or for a perimeter player. If 5's defender moves across to take 4, 4 pops out and 5 cuts to the basket.