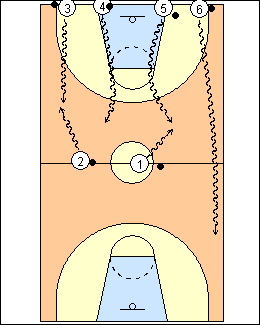 2

On the next trip, O1 and O2 try to tag the other players. How many trips does it take before all players are tagged?

coaching.fibaeurope.com - if there aren't enough balls for everyone, players pair up holding hands, one player dribbles.

coachesclipboard.ca - sharks and minnows - no basketballs, two sharks, switch places if you tag a minnow (option - all players are dribbling). See Footwork - Tag.

Brian McCormick - sharks and minnows - halfcourt, sideline to sideline, the two sharks are without balls, other players have balls, and join the sharks if tagged. Progressions, a) everybody has a ball, b) only sharks have balls (get a ball from coach if tagged).

- Cheetahs - no balls, coach is the cheetah at halfcourt, join coach if tagged
- Octopus - players are dribbling, coach is the octopus at halfcourt.