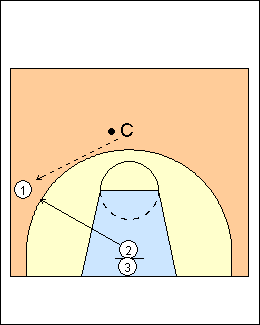 1
Seth Miller
basketballcoachingnotes.blogspot.com

Coach passes to 1 on the wing, 2 sprints to close out from under the rim, 1 jabs hard at the defender who must take the fake with his back foot. After a 3-count, 1 will pass back to coach, run to the back to the rim line and 2 takes his place.
(Variations)
- close out from a gap position
- use both wings, alternate sides
- closeouts then 1 on 1.


Progressions

a)
After a jab step, 1 dribbles the ball and picks it up, causing defender 2 to pressure him with both hands up.