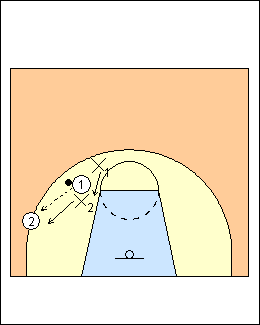 2
X1 recovers to 2 when 1 passes.

Option - 2 shoots, X1 and X2 box out.

Matt Doherty, North Carolina - X2 helps across but not up, since that would give 2 a clear path to the basket (hoopsking.com).

FIBA Assist, issue 14 - 2 drives baseline, X2 must recover to stop him. To begin, 2 cannot move until he receives the ball, then allow him to cut backdoor when X2 cuts off 1.